Help GDA Make Teams Come True!
By: Stephanie Colman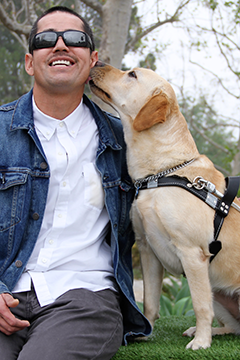 In two years, someone we haven't met yet will sit anxiously in their dorm room, waiting for a trainer to walk in with a highly trained guide dog picked especially for them.  In two years, someone we haven't met yet will grasp the harness handle, take a deep breath, say, "Forward!" and take their first steps without a white cane or holding the arm of a friend.  In two years, someone we haven't met yet will experience the overwhelming sense of freedom that comes from knowing their guide dog will help them find their way.
But not without you.
Volunteer puppy raisers are the cornerstone of our training program at Guide Dogs of America.  They are a main reason why we are able to fulfill our mission of empowering people who are blind or visually impaired to live with increased independence, confidence and mobility, by providing expertly matched guide dog partners.
We need your help!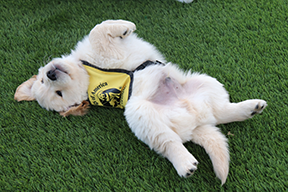 Our nursery is currently FULL OF PUPPIES who are looking for loving volunteer puppy raiser homes starting in June.  If you've ever considered raising a guide dog puppy, now is a WONDERFUL time to become involved.  Our early enrichment program allows our puppies to confidently transition into raiser homes, ready to learn, and our puppy classes and ongoing educational workshops teach you everything you need to know about how to raise a GDA puppy.  We provide full "tech support" on all of our puppies.  Our entire staff is here to support you throughout the entire process.
If you're thinking, "I'd love to raise a guide dog puppy, but I could never give it up," here's what you need to know:  You aren't giving it up. You're giving it forward.  And when the pup you raised becomes a guide dog, and you meet the person to whom the dog was matched, you likely gain a lifelong friend who is so grateful for your selfless act of love and kindness.  If the dog does not excel in guide work, you, as the puppy raiser, have the first opportunity to adopt the dog.  Puppy raising is a total win-win!  If you choose not to adopt the dog, and it's not a candidate for another line of service work, we have an extensive waiting list of wonderful families looking to adopt a "career change" dog.  We are committed to making sure all of our dogs find wonderful homes.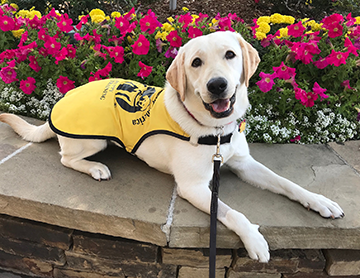 We are proud of what we do here at Guide Dogs of America, and we'd love to tell you more about the program and welcome you into the fold as a volunteer puppy raiser.  If you'd like to learn more, please call (818) 833-6447 or visit the Puppy Raising page of the website.  You can also sign up to attend an upcoming puppy raiser info session on May 11 or June 15.
We can't make guide dogs without puppy raisers.  We need your help to make teams come true!
We look forward to working with you.
Kindly,
Puppy Department
Guide Dogs of America