A Beginners Guide to Getting Pet Insurance
So you're thinking about Pet Insurance…
Our dogs are irreplaceable members of our family, but no matter how careful we are, there is a chance your dog will get sick or injured. That is why you should be prepared when an emergency arises.
As a part of our program, Guide Dogs of America- TLC graduates receive free lifetime Veterinarian Services if they bring their dog to our vet department on campus. Yet, there are instances where our staff can not offer services to students, i.e., out-of-state students, emergencies. That is why we recommend all of our graduates explore a pet insurance policy. Veterinary bills, whether they are routine or an emergency, can rack up quickly. Pet insurance allows you to make the best choice – not the least expensive one. If you're unsure about enrolling for pet insurance or aren't sure which provider to choose for your pet, you'll want to do your research and know what questions to ask. Just like human health insurance, not all policies and providers cover the same things.
Average Pet insurance Costs
Monthly premiums range from as low as $10 to over $100. Most pet owners can expect to pay between $30-$50 for a plan with decent coverage.
What Types of Coverage are there?
There are three types of pet insurance coverage: accident, illness, and wellness. Depending on your preference, you can sign up for them separately or all together.
Accidents– like torn ligaments, bite wounds, cuts, broken bones, swallowed objects, and toxic ingestions.
Illness-like cancer, arthritis, hypothyroidism, ear infections, digestive problems, and urinary tract infections (UTIs).
Wellness – Routine vet visits, Vaccinations, Flea/heartworm medication, dental care and in some cases Spay/neuter.
Questions to Ask When Comparing Policies
What type of policies do they offer?
What's covered/ what's not covered?
The price of the deductible you'll need to meet?
Are there any exclusions? (like age or pre-exsiting conditions)
How long will it take you to get reimbursed for your visit?
Tip: It's also a great idea to check reviews of other users' experiences with the company.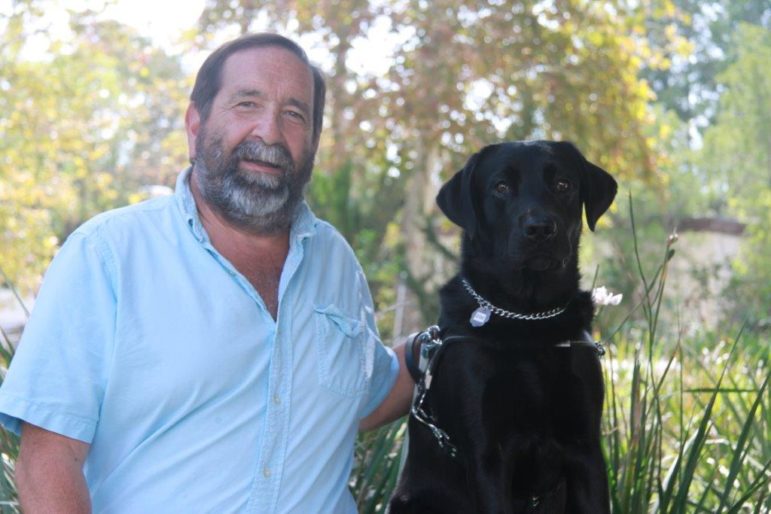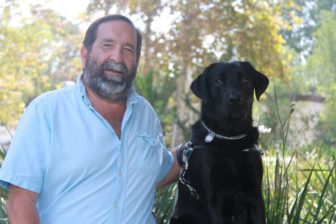 An Example
Guide Dogs of America (GDA) graduate David Roulston's guide dog, Bernie, recently tore a ligament in his back leg that required surgery. Roulston expressed how glad he was to have pet insurance through Trupanion. The insurance company covered $2600.00 of the $2900.00 in medical costs.
Why You Should Consider Pet Insurance
Pet insurance is a personal choice, but one thing to keep in mind is: if you can't pay out of pocket for emergency care, you should, at the very least, consider buying pet insurance. Getting your pet insurance gives you peace of mind and makes it easier to say yes to recommended treatments. You'll spend less time worrying about the cost of the bill and more time focused on the health of your pet.
Are you a Veteran with a Service Dog?
The U.S. Department of Veterans Affairs offers a service dog veterinary health benefit for eligible Veterans through VHA Prosthetic and Sensory Aids Service (PSAS), which administers this program. The Veteran should meet with a VA Mental Health Provider to begin the application process for this benefit. The mental health provider and care team will evaluate and determine whether the mental health condition is the primary cause of the Veteran's substantial mobility limitations. VA's authority for this program for guide, hearing, seizure, and mobility dogs is in 38 CFR 17.148 – Service Dogs.
Service Dog Insurance Coverage: Veterans with medically approved service dogs are enrolled in a contracted veterinary health insurance policy to cover:
Comprehensive veterinary services for their service dog
Annual visits for preventive and maintenance care (i.e., immunizations, dental cleanings, screenings, etc.)
Urgent/emergent care
Prescription medications
Care for chronic illnesses and/or disorders to enable the dog to perform its duties in service to the Veteran.
Enrollment in VHIB eliminates the need for VA pre-authorization. The veteran must provide to VA a certificate showing successful completion issued by the accredited organization that provided such program.
*For more information visit, https://www.prosthetics.va.gov/
Assistance Dog Special Allowance Program
The California Department of Social Services (CDSS) offers an Assistance Dog Special Allowance (ADSA) program that provides a monthly payment of $50 to eligible persons who use a guide, signal, or service dog to help them with their disability-related needs. The allowance is to help pay the costs of food, grooming, and health care for the dog.
You can apply online https://www.cdss.ca.gov/Assistance-Dogs Call (916) 657-2628 or email ADSAUser@dss.ca.gov.
Stay up to date! Sign up for our Partners Newsletter