Volunteering is a great way to contribute to Guide Dogs of America. Volunteers are an essential component of this school. You make us successful in ultimately matching service dogs to people in need!
Volunteer contributions – sometimes sacrifices – to Guide Dogs of America don't go unnoticed. 2019 saw our volunteers reign in an outstanding total of more than 15,363 volunteer hours!
If you are interested in volunteering at Guide Dogs of America's facility, be sure that you are located close to our school here in Sylmar, California for your own convenience.
If you wish to volunteer for Guide Dogs of America, fill in and submit the application below online or print it to send in by mail. The Volunteer Coordinator will contact you with volunteer opportunities.
There are several types of volunteer opportunities available at Guide Dogs of America: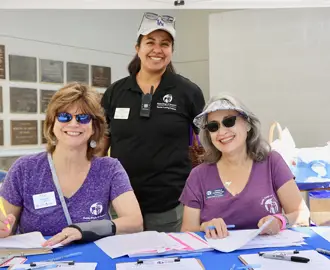 Clerical/General
Kennel/Boarding
Puppy Head Start
Puppy Nursery
Speaker
Tour Guide
Receptionist/Phone Duties
Professional Marketing and/or Publicity Assistant
Physically fit people to assist with landscaping and event setup and event tear-down
There are many types of volunteering, including Puppy Raising. If you are interested in being a volunteer Puppy Raiser, please visit the Puppy Raising page, where you'll find the specific puppy raiser application.
Volunteer Application
Volunteer Requirements
Attend Volunteer Orientation. See calendar for details.
Minimum age requirement: 18 years old. Exception: 16/17-year-olds can volunteer with an accompanying parent or guardian.
Kennel and Nursery Volunteers: Minimum 6-month commitment.
Clerical volunteers must be available weekdays.
Volunteer tour guides must be able to speak clearly and loudly in front of groups of up to 50 people.
Tour guides need to be available weekdays.
Physical effort: standing, sitting, bending, for a long period of time. Reasonable accommodations can be arranged.