Campus Tours & Guest Speakers
Book a Tour or Request a Speaker
We offer tours for adults as well as children age nine or older. We can also bring our story in person with an adorable puppy-in-training to your business, organization, club or school to increase awareness of our school and the services we offer.
PLEASE NOTE: Our tours take place at our headquarters in Sylmar, CA. They start at our Visitor Education Center which is located at 13479 Glenoaks Boulevard, Sylmar, CA 91342. Parking is in the rear of that building. If you arrive at 13445 Glenoaks you are not at the correct building. Please call if you have any questions 818-833-6429. Tours are offered Tuesday, Wednesday and Thursday at 10 am and 1:30 pm and last approximately 90 minutes.
Reservations Required
For additional information or to book a tour or a speaker, please complete the form below or contact Judy Reilly at (818) 833-6437 or jareilly@guidedogsofamerica.org
Minimum age for a Speaker's audience is second (2nd) grade
Minimum age for a Guided Tour is age 9
Minimum attendance required: 15 people*
Maximum Tour size: 50 people
* If you have fewer than 15 attendees for a tour, we can add you to an existing one – please indicate this in the form below or make arrangements directly with Judy Reilly.
NOTE: PLEASE MAKE CERTAIN ALL REQUIRED FIELDS (*) ARE FILLED IN OR YOUR REQUEST WILL NOT BE SUBMITTED. AFTER SUBMITTING REQUEST, SCROLL DOWN ONCE MORE TO MAKE SURE THERE IS NO ERROR MESSAGE.
TO ENSURE ACCURACY, AFTER SUBMITTING REQUEST, SCROLL DOWN (PAST FORM) ONCE MORE TO MAKE SURE THERE IS NO ERROR MESSAGE.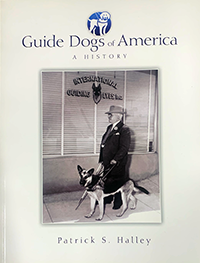 Pick Up a Free Copy
Learn more about us in our FREE book Guide Dogs of America A History by Patrick S. Halley available at the main desk when you are on campus.