Founded In 1948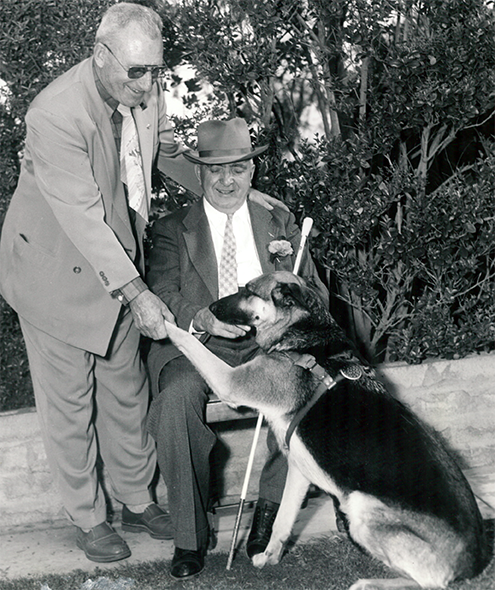 Guide Dogs of America was founded in 1948 by Joseph Jones, Sr. with the help of the International Association of Machinists and Aerospace Workers (IAMAW).
When Mr. Jones became blind, he decided his mobility needs would best be met by using a guide dog. He applied to all the existing schools, but he was declined because of his "advanced age." He was only 57 years old.
Mr. Jones was a determined man and "no" was not a word in his vocabulary. He turned to the IAMAW for help, soliciting assistance from its Executive Council. The IAMAW Executive Council conducted extensive research, determined there was a growing need for guide dog services, and therefore endorsed the founding of International Guiding Eyes. International Guiding Eyes was one of the first guide dog schools to be founded by a blind individual. It was also one of the first schools to adopt a policy of no upper age discrimination.
In 1992, International Guiding Eyes changed its "doing-business-as" name to Guide Dogs of America in an effort to communicate more clearly the services provided by the organization. Since our founding, International Guiding Eyes, Inc., dba Guide Dogs of America has matched thousands of individuals who are blind and visually impaired with extraordinary guide dog partners and continues to seek new and better ways of to support the blind community.
The IAMAW continues to be a generous supporter of the school's mission today. If you would like more information about the IAMAW, visit their web site at www.goiam.org.
We Recently Merged
With the need for highly qualified service dogs continuously growing, in January of 2020, Guide Dogs of America (GDA) merged with Tender Loving Canines (TLC). This new single organization operates under the GDA umbrella.
Tender Loving Canines began as a small non-profit, all volunteer organization in 1998 with a goal to train service dogs for those seeking a fuller, more independent life by training and providing service dogs for veterans, individuals with autism and facility dogs. TLC became a 501(c)(3) non-profit organization in August 1999. In 2007, TLC earned accreditation from Assistance Dogs International (ADI). TLC launched the prison training program at the Richard J. Donovan Correctional Facility (RJDCF) in 2014, then at Mule Creek State Prison (MCSP) in 2016, and the Marine Corps Base Camp Pendleton Brig in 2017.