Who We Are
At Guide Dogs of America, we transform lives through partnerships with service dogs. We breed, raise, and train guide dogs for individuals who are blind/visually impaired and service dogs for veterans and children with autism. We also place facility dogs with professionals in hospitals, schools, and courtrooms. Our highly skilled canines become trusted companions that increase people's confidence, mobility, and independence. All programs and services, including transportation, personalized training, room/board, and postgraduate support, are provided at no cost to the recipient.
What We Do
Located on a beautiful 7.5-acre campus in Los Angeles, Guide Dogs of America serves a diverse range of individuals from the U.S. and Canada. Our mission is to transform lives through partnerships with service dogs.
While many of us know the pleasure of our family pets, we relish the opportunity to facilitate a meaningful and productive relationship be­tween our clients and their service dog.
All of us at GDA greatly enjoy our work, and we're grateful for our donors and volunteers' generous support that changes the lives of so many.
Russell Gittlen
President & Director
Guide Dogs of America
Our Services
Professional training
Personalized instruction
Air and ground transportation to and from our school
Room and board for in-residence training
Delicious meals prepared by our professional chef
Veterinary services are available to graduate teams on campus
Specialized guide dog harness or service dog vest
Extensive post-graduate support services
Quick Links
Ever since receiving my first  dog from Guide Dogs of America, my life has been filled with things that I CAN do, rather than what I can't do.  The school has given me the greatest gifts of my life…the ability to be independent and confident beyond anything I could have ever imagined."

GDA/TLC Graduate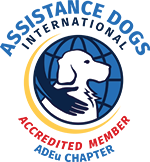 We are an Assistance Dogs International accredited organization. All of our dogs are trained to ADI standards for public access and service dog cues, and we follow ADI guidelines for placement of our dogs.