Raise a puppy. Change a life.
Guide dog and service dog puppies are placed with carefully screened foster families and individuals, known as "puppy raisers," when they are 8 weeks old, learning proper house manners, basic obedience, and providing experiences that will give them confidence in the world during the first year of their life. At any given time, we have 150-200 puppies in homes.
Puppy Raising volunteers are an essential part of our training program at Guide Dogs of America. Every successful guide dog and service dog team had a Puppy Raiser who gave them plenty of love, taught them basic skills and provided experiences to allow them to feel safe in the world.
An Abundance of Support
Guide Dogs of America provides plenty of support to our puppy raising volunteers, including group cohorts of fellow puppy raisers, structured training with our professional staff, behavioral support, and on-site veterinary care, the entire GDA team is rooting for each puppy's success.
The Foundation
To ensure proper socialization, puppies-in-training cannot be left alone. Puppy raisers must have permission from their employers to bring the dogs to work, or committed family member who will work with the puppy during the day. We welcome puppy raisers from all lifestyles whether they are families, couples or singles. Homes can be houses, condos or apartments, and can have well-mannered resident pets as well.
Southern California
Our puppy-raising program is primarily limited to Southern California, with active groups in the Antelope Valley, Santa Clarita Valley, San Fernando Valley, West LA, Ventura, Simi Valley, Pasadena, Glendora, Inland Empire, Long Beach, Torrance, Huntington Beach, Orange County, and multiple locations in San Diego. We are also developing a puppy program in Southern Oregon.  Click here for regional meeting locations and contact info.
The Benefit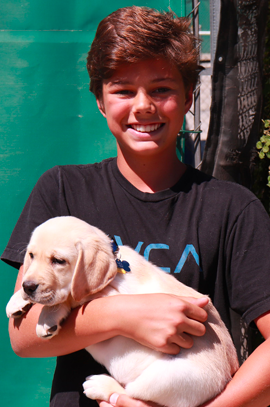 Raising a guide dog/service dog puppy is a significant commitment, but can also be a rewarding experience. And while sending the grown puppy "off to college" for their formal training can be difficult, many of our puppy raisers choose to take on the challenge again and again.
Basic Requirements Include:
Live within driving distance of a regional puppy group
Ability to safely manage and control a large-breed puppy/adolescent dog
Ability to teach basic obedience and proper house manners
Attending monthly training meetings
Travel to GDA campus for veterinary care, kennel acclimation and behavior evaluations
Cover the cost of food, flea/tick preventatives and one public obedience class
Apply To Be A Puppy Raiser»
If you're outside SOUTHERN California, click here»
Resources
Attend an Upcoming Information Session to Learn More! Dates can be found on our event calendar here or on our Facebook page here.
The rewards of puppy raising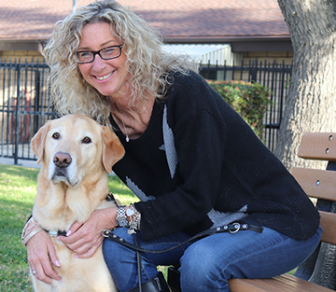 The Power of Independence