Guide Dogs of America maintains a breeding colony to ensure a consistent production of dogs with the desirable traits to produce successful guide and service dogs. We selectively breed dogs that are in excellent health and have the temperament for guide or service work. A small percentage of our dogs do come from other guide or service dog schools, approved breeders, and a service dog co-op breeder program.
Labrador Retrievers have proven to be the most successful breed for Guide Dogs of America but our breeds also include Labrador/Golden Retriever crosses, Golden Retrievers, and German Shepherd dogs. A variation of breeds helps to fill the many needs of our clients.
The breeding dogs in our program live as well-loved family pets in volunteer foster homes. The dogs and their puppies are cared for by our qualified nursery staff, our great Veterinary team, and our dedicated volunteers.
If you are interested in becoming a volunteer foster family for one of our Breeding dogs, please contact our Breeding Department or fill out the application below.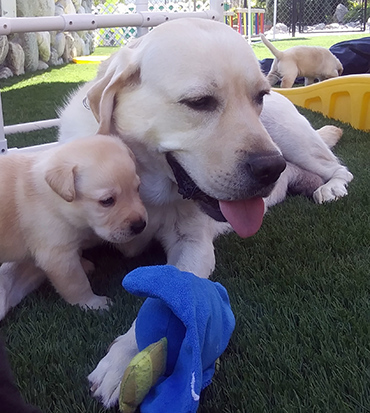 A Special Role
Breeder Hosts play a special part in fulfilling the mission of Guide Dogs of America. As a Breeder Host you will have the opportunity to help create world-class service dogs by fostering a breeder in your home.