Our Programs
At Guide Dogs of America, we believe that a well-trained service dog partner offers new opportunities for greater independence, enhanced mobility, and social interaction.
Guide Dogs for the Visually Impaired
Our guide dogs for people who are blind/visually impaired become trusted companions, bringing new opportunities for life experiences and social interaction. These highly trained canines help our clients travel safely from one destination to the next, avoid obstacles, stop at changes in elevation and for all oncoming traffic, as well as remembering common routes.
Service Dogs for Veterans
Our service dogs for veterans help their partners gain greater independence and reintegration into society. They are task trained to respond to PTSD-related triggers, and can also carry or retrieve objects, provide balance assistance for veterans with mobility limitations, and can remind their partners to take their medications.
Service Dogs for Children with Autism
Our service dogs for children with autism help them gain confidence and independence. Together, they will experience newly found social interactions, increased communication abilities, and also assist with daily living activities. In the presence of triggers (e.g., loud noises) our dogs perform grounding behaviors.
Service Dogs for Facilities
Our facility dogs provide intervention and therapy to people with disabilities, victims of crime, and other vulnerable individuals. Facility dogs can motivate children to stay engaged in educational settings as well. In healthcare settings, our dogs can help facilitate the healing process. Our facility dogs can also help individuals feel calm and secure during a difficult courtroom trial or testimony.
Team Success
Our objective is not only to provide excellent service dogs and quality instruction but also to strive to maintain the true success of a team – longevity. Finding the right partner, forming a strong bond, and maintaining a solid support system are the keys to a successful service dog team. Our 7.5 acre campus in Southern California is home to all of our programs. Support for the lifetime of the team are available for each graduated team at no cost. Here are just some of the services we offer:
A professionally trained, highly qualified, expertly matched service dog
Personalized instruction in how to care for and work with their service dog
Public transportation to and from our school
Room and board during the 1 to 3-week in-residence training program
Veterinary care at our on-campus clinic
Extensive post-graduate support services
Training follow-up sessions
Boarding Services
Personalized Training
Our trainers are experts at pairing students with the right canine partner, with special consideration given to their personalities and unique characteristics, work and home environments, physical abilities, and a variety of other factors.
While on campus, our students enjoy private rooms in our dormitory, three meals a day in our dining room, and many state-of-the-art amenities. Our program covers training in a wide variety of locations. As the instructors train the teams to work together, they learn to trust and rely on one another and develop a relationship based on mutual respect and cooperation.
Training for the visually impaired includes a 21-day in-residence training program. Training for Veterans, Individuals with Autism and Facilities include a 3-week online instruction, followed by a 10-day in-residence training program
Accreditation
The International Guide Dog Federation (IGDF) is the industry-elected body responsible for the development, monitoring and evaluation of the standards applied within all IGDF-member organizations, and to which all Enquiring and Applicant organizations aspire, in order to ensure equity of high-quality service to guide dog users and Handlers around the world.
GDA graduate Lorri Bernson talks about how having a guide dog enhances her life.
Learn More
Frequently Asked Questions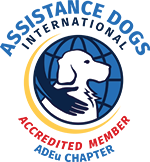 We are an Assistance Dogs International accredited organization. All of our dogs are trained to ADI standards for public access and service dog cues, and we follow ADI guidelines for placement of our dogs.