TLCAD's Solar wins Art for Barks Hero Service Dog Competition

A beautiful September Sunday at the Del Mar Polo Field was highlighted by a unique array of fourlegged friends, all Service Dogs, who were finalists in Art for Barks Hero Service Dog Competition. This inaugural competition put on by Art for Barks, highlighted Service Dog teams from a variety of local Service Dog organizations, in an effort to raise awareness for Service Dogs, the people they support and their role in our community.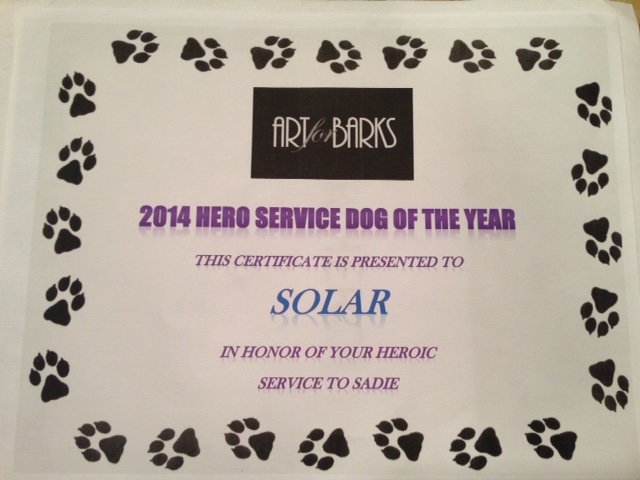 Solar, a beautiful labradoodle, who was trained by Tender Loving Canines Assistance Dogs (TLCAD) was awarded Hero Service Dog of the year, for his heroic work in assisting a young girl named Sadie. Solar's journey toward becoming a Hero Service Dog began with a mother's hope.
"It has been an incredible experience, far more than what was expected, far more rewarding and wonderful,"
Nicki states, when asked about obtaining a TLCAD Service Dog for her daughter Sadie, who has autism and cerebral palsy. The hope that her daughter would one day be able to walk independently, without her wheelchair or walker, was part of the driving force that led this determined mother to pursue a Leash-On-Life Service Dog.Through customized Service Dog placement training, dedication and perseverance, Sadie now walks independently with the assistance of her Service Dog, Solar. Solar has transformed the life of Sadie and her family, by giving them the gift of independence. Art for Barks and TLCAD hope to continue their collaboration in raising awareness for Service Dogs for individuals with special needs in the San Diego Community. For more information please visit www.artforbarks.com.