TLCAD Receives Highest Award Recognition at CSUSM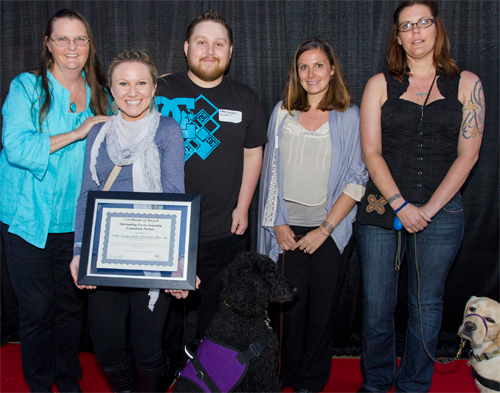 The Office of Community Service Learning (OCSL) at California State University, San Marcos awarded Tender Loving Canines Assistance Dogs, Inc. (TLCAD) with the Outstanding Service Learning Community partner award.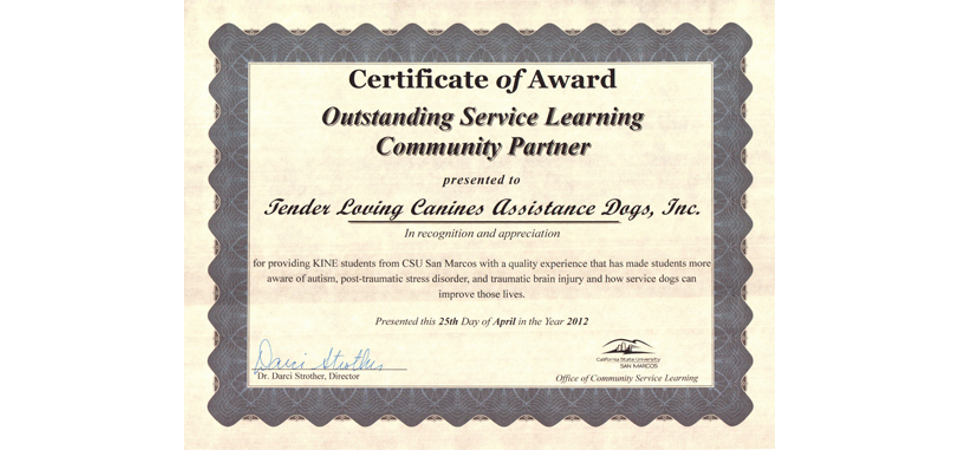 The Outstanding Award is given annually to honor and recognize an organization whose work in the community exemplifies the "best of the best". Nominations for the Outstanding Awards are submitted by those who recognize the exceptional work of an organization within the community. TLCAD was nominated by Dr. Laura de Ghetaldi, Instructor of Kinesiology and Internship faculty Supervisor at CSUSM.
"I could not have been more proud to nominate such a wonderful organization and group of people both four and two footed," said de Ghetaldi. "Even better yet, all the more proud when TLCAD won the highest award recognition for Community Service Partner Award at CSUSM."

L-R: Dr. Laura de Ghetaldi, Tuxedo, Stephanie Myung
TLCAD received the award for providing Kinesiology students with a quality experience that has made them more aware of autism, post-traumatic stress disorder (PTSD) and traumatic brain injury (TBI) and how Service Dogs can improve those lives.The award was presented at the annual Community Service Learning's award reception held on April 25th, 2012 at The McMahan House. TLCAD received a certificate and plaque that will be placed in the Office of Community Service Learning at CSUSM.