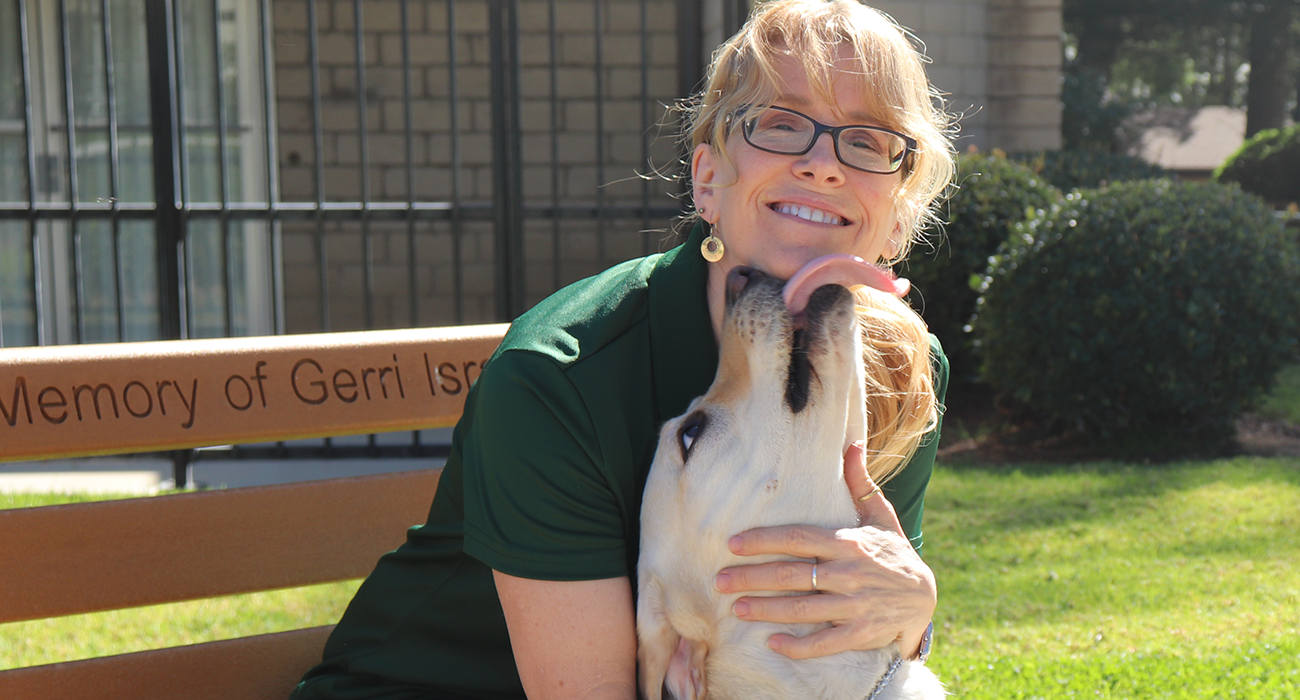 Join Our Team
Founded in 1948, Guide Dogs of America has long been a leader in providing guide dogs to individuals who are blind and/or visually impaired. Regardless of where you work at Guide Dogs of America, you will contribute to fulfilling our mission. We recognize and support employees' efforts to develop, expand their knowledge, improve their skills, and assume added responsibility. Yet, the greatest reward comes from knowing that you have a role in assisting blind and visually impaired individuals pursue their goals of greater independence and mobility.
---
Licensed Veterinarian/Director of Health
JOB PURPOSE
To provide leadership to the veterinary service programs and provide care and oversight of all GDA animals.
Duties and responsibilities
Responsible for ensuring operations comply with all state and federal laws regarding the practice of veterinary medicine on site.
Provide and/or manage professional veterinary care, including surgery, radiography and internal medicine, for dogs brought to the veterinary clinic.
Ensure appropriate staffing, training, retraining, monitoring, evaluation and recognition of direct and indirect reports and volunteers within the Vet department.
Responsible for efficient workflow, assuring timely quality care and service for all dogs.
Evaluate standards of care to ensure GDA is up to date with current standards.
Develop and manage local preferred veterinarian networks to provide the desired standard of care and services for the medical needs of all GDA dogs.
Establish and negotiate preferred provider rates and consistent treatment protocols for all veterinarian service providers.
Develop standard operating procedures and clinical protocol as appropriate.
Participate in strategic planning process.
Confer with outside veterinarians, caring for GDA dogs to assure that their recommended treatment is consistent with our protocols and other conditions, and that results are appropriately documented and reported.
Participate in authorizing outside veterinary care according to our policy and procedures.
Consult with breeder keepers, puppy raisers, graduates and dogs up for adoption concerning their dogs' care by phone, email and when appropriate in person.
Update veterinary concepts through continuing education.
After hours emergency phone consults.
Manage inventory, storage systems and vendor relations to maintain an appropriate level of all supplies, drugs and equipment and tracks expenses.
Process invoices, expense reimbursements and other paperwork related to inventory control.
Manage service contracts with outside vendors, clinics, hospitals, etc.
qualifications
Must be a licensed Veterinarian, licensed to practice in the state of California
Must have 3+ years veterinary experience
Ability to organize, meet deadlines, delegate tasks, evaluate and supervise work force
Possess strong interpersonal skills and be able to communicate with all agents
Ability to lead and manage change
Experience in a non-profit environment a plus
Working conditions
Clinic environment with multiple dogs
Works mainly indoors
Share office space
Five day workweek 9am-5pm (Saturday)
Some on call for emergency phone calls required
physical requirements
Must be able to lift a minimum of 60 lbs. and 80 lbs. with assistance
Must be able to stand for long periods
Travel maybe required
Please contact Kris Wallace at KDWallace@GuideDogsofAmerica.org
---
---
---
Seasonal Part-Time Cook
JOB PURPOSE
Under the supervision of the Head Chef prepare breakfast, lunch, dinner and desserts from the menu provided.
Maintain an awareness of each client's dietary restrictions
Maintain a kitchen cleaning scheduled for all equipment
Assist in meal and menu planning, ordering and maintaining inventory of food and supplies
Assists with the preparation, set-up, service and clean-up of special events
Demonstrates high level of proficiency relating to food safety and handling procedures
Uses proper storage techniques when storing dry goods, including proper labeling and rotation of all ingredients to prevent food waste
Performs other duties as assigned and needed
REQUIREMENTS
Experience in food preparation and cooking for groups of 10 or more
Current ServSafe Certification
Knowledge of food service standards
Ability to work independently and part of the team
Strong communication skills
Valid driver's license and able to be insured
Able to lift up to 40 lbs and stand for extended periods
Punctual and maintains a good attendance record
Please contact Kris Wallace at KDWallace@GuideDogsofAmerica.org
---
About Guide Dogs of America
At Guide Dogs of America, all of our volunteers, donors, clients and staff share a belief that we don't just train guide dogs, we inspire others to live their lives. Guide Dogs of America places more than 50 dogs each year, serves more than 300 graduates across the U.S. and Canada and has been enriching the lives of others for 70 years.
Guide Dogs of America is a Four Star Charity of Charity Navigator and a "Best" award recipient of the Independent Charities of America and earned the 2020 Platinum Seal of Transparency from Guide Star. Our guide dogs are provided at no cost to our clients and our program receives no federal, state or local government funding. Guide Dogs of America is an accredited member of the International Guide Dog Federation and Assistance Dog International.