Puppy Raiser Area Groups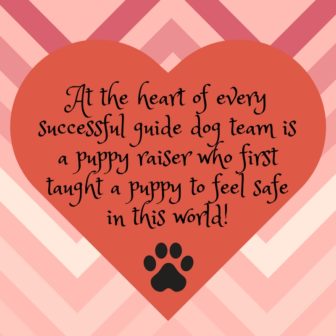 Monthly meetings are an important part of the puppy raising experience, and raisers are required to attend regular meetings. (Raisers who are between puppies, but who wish to puppy sit must also attend at least six meetings per year.) Although you will pick the group closest to you as your "home base" group, you are also welcome to attend other meetings, as a guest, in addition to your monthly "home base" meeting. It's important to get to know your local group members, as they are the people who can assist when you need a puppy sitter or when you want to arrange a training outing, etc. Shared community is an important and enjoyable part of puppy raising.
Interested in learning more? Prospective applicants are welcome to attend. As a courtesy, please contact the group leader in advance so s/he knows to expect you. We look forward to welcoming you to our next meeting!
Questions? Please call the Puppy Department at (818) 833-6447.
Sylmar GDA Puppy Raiser Meeting
1st Wednesday of each month at 7 p.m.
Guide Dogs of America campus
13479 Glenoaks Blvd. Sylmar 91342
Group Leaders: Pam & Bob English
(661) 296-4633
(661) 212-2517 – Pam
(661) 212-2516 – Bob
englishpaws@cs.com
Orange County GDA Puppy Raiser Meeting
2nd Tuesday of each month from 6:30 p.m. – 8:00 p.m.
Lakeview Senior Center
20 Lake Road
Irvine, CA 92604
Group Leaders: Tammy & Mark New
(714) 306-8614
OCGDA@Yahoo.com
San Diego GDA Puppy Raiser Meeting
1st Monday of each month at 6:30 p.m.
The Blind Community Center of San Diego
1805 Upas Street
San Diego, CA 92103
Group Co-Leaders: Lonnie Raimond and Leslie Adams
Lonnie: (619) 917-1787
Leslie: sandiegogda@gmail.com
Inland Empire GDA Puppy Raiser Meeting
3rd Monday of each month at 6:30 p.m.
Sycamore Elementary School
225 W. 8th Street, Claremont
*Meeting occasionally held at an alternate location. Please confirm before attending.
Group Leader: Cindy Miller
cynthiamiller@verizon.net
Long Beach/South Bay GDA Puppy Raiser Meeting
1st Tuesday of each month at 6:30 p.m.
Christ Lutheran Church
6500 E. Stearns Street, Long Beach 90815
Group Leaders: Brian and Nancy Matthews
(562) 301-5162 – Brian
(562) 301-8843 – Nancy
bnmandthegirls@verizon.net
Ventura County Puppy Meeting
3rd Wednesday of each month* 7:00-8:30p.m.
Oxnard Family Circle
2100 Outlet Center Drive
Oxnard, CA 93036
Group Leader: Debbie Prince
(818) 259-9239
venturagdapuppy@gmail.com
*July and December meetings are special events held at an alternate location. Contact Debbie for information.
Westside GDA Puppy Meeting
2nd Monday of each month at 6:15 p.m.
Ken Edwards Center
1527 4th Street 4th Street, Santa Monica 90401
Group Leader: Stephanie Colman
818-833-6447
Smcolman@guidedogsofamerica.org
San Gabriel Valley Puppy Meeting
3rd Tuesday of each month* 6:00-7:30p.m.
*New Group.  First meeting in July, 2019
Mountain View Memorial Park
2400 North Fair Oaks Ave.
Altadena, CA
Area Leaders: Linda Ruggles and Sheila Treston
626-422-5250 – Linda
Llruggles59@gmail.com
818-681-5652 – Sheila
Treston7@gmail.com