National Service Dog Month with Guide Dogs of America
We partnered with Dogdrop for National Service Dog Month to acknowledge the nonprofit organizations and service dogs that work hard every day to help people live better lives. Service dog organizations not only provide training and benefits – they create a lifelong partnership between person and service dog that provides selfless assistance and unconditional love. Dogdrop, an LA based dog care company, understands what it's like to work with dogs every day and knows how important it is to cherish the love and benefits dogs bring to our lives.
We chatted with Dogdrop to give an insight of what a nonprofit service dog organization does. We also discussed some tips and ways that anyone can get involved and be part of a good cause.
What does Guide Dogs of America do?
At Guide Dogs of America, we transform lives through partnerships with service dogs. We breed, raise, and train guide dogs for individuals who are blind/visually impaired and service dogs for veterans and children with autism. We also place facility dogs with professionals in hospitals, schools, and courtrooms.
Our highly skilled canines become trusted companions that increase people's confidence, mobility, and independence. All programs and services, including transportation, personalized training, room/board, and postgraduate support, are provided at no cost to the recipient.
What are the benefits of a nonprofit organization such as Guide Dogs of America?
Our school was founded on the principle of no upper age limit. You will receive a guide/service dog no matter how old you are, if you meet our requirements. I've seen people as old as 83 graduate with a guide dog.


There are only three schools in the country that provide both Guide Dogs for people that are blind and service dogs for veterans, children with autism, and facilities.


In our Guide Dog program, we practice a well-balanced training approach. We do not depend exclusively on treats and/or clickers to train/use our dogs. We believe in a heavy amount of praise reward, which can be as simple as telling the dog it did an excellent job by giving it a hug or kiss, something of higher reward like playtime, or other structured activities.
What are some things people should consider before partnering with a service dog?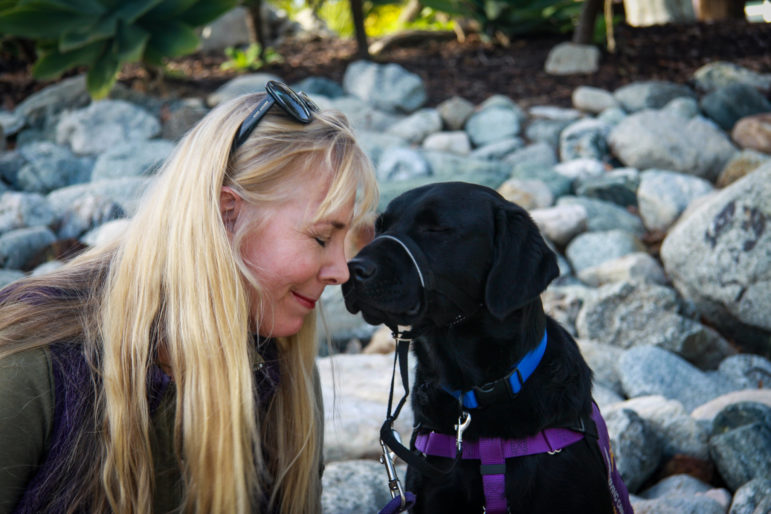 People should understand that while service dogs are an incredibly rewarding addition to life, they also require work, a lot of it. They require feeding, bathing, grooming, walks, playtime, etc. When you partner with a service dog, you are no longer the first priority; your dog is. I always tell people, when you wake up, you don't go to the bathroom first anymore; you let your dog who has waited all night out first – rain, snow, sleet, or shine.
What are some tips you can provide about service dogs this National Service Dog Month?
Please respect a service dog that is working. When a service dog is in a harness/jacket, they have an important, sometimes life-saving job to do. We know they're unbelievably cute and are begging to be pet, but please refrain.
DO:
Do keep in mind the handler is supported by the service dog for daily life.
Do offer help when appropriate, but do not insist.
Do use an encounter with a service dog team as an opportunity to educate children.
DON'T:
Do not pet the service dog without permission.
Do not talk to the dog.
Do not feed the dog.
Do not make sounds to get the dog's attention.
Do not stare at the dog.
Do not be offended if a handler says no to petting the dog or cannot chat with you about the dog.
What are some ways people can help nonprofit organizations such as Guide Dogs of America?
Get involved! No matter who you are or where you live, there is a way that you can help. While donations are always welcomed and appreciated, we understand that not everyone has the capacity to give.
Start a fundraiser: It can be as simple as putting out a little collection jar at work. Facebook fundraisers are also great. With a few clicks of the button, you can reach out to hundreds of people!


Volunteer: Our campus and many other schools across the country rely on volunteers to keep our day-to-day operations up and running. Volunteering is more than just cleaning kennels and walking dogs; we accept volunteers in every department. Are you a former marketing exec, accountant, plumber, etc.? We could use your expertise!


Raise a puppy: This is the most important of them all. We are always looking for loving homes to foster and raise our future guide/service dogs. Guide dog and service dog puppies are placed with carefully screened foster families and individuals, known as "puppy raisers," when they are 8 weeks old, learning proper house manners, basic obedience, and providing experiences that will give them confidence in the world during the first year of their life. At any given time, we have 150-200 puppies in homes.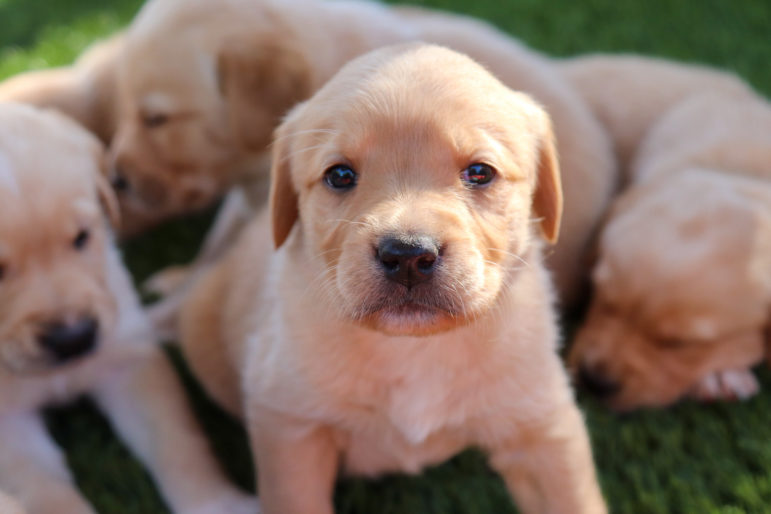 We hope that after reading this article, you have a better understanding and respect for the organizations and service dogs that make it all possible. If you would like to donate to Guide Dogs of America, please visit their donation page for ways you can get involved.
There are many nonprofit service dog organizations across Los Angeles and Orange County that you can support. Your donation helps these organizations to continue working towards their goal of improving people's lives through partnerships with service dogs.
Dogdrop partnered with other pet brands to donate pet products to local nonprofit service dog organizations. Special thanks to Doodle Couture and Spleash for their generous donations.
Puppy Raising volunteers are an essential part of our training program at Guide Dogs of America. Every successful guide dog and service dog team had a Puppy Raiser who gave them plenty of love, taught them basic skills and provided experiences to allow them to feel safe in the world.
As you see, service dogs play a vital role in the health and well-being of a person with a disability. When they are on the job, it's essential that you don't interrupt or distract them – the handler's life depends on it!
Written by Dogdrop. Dogdrop provides the best dog daycare and pet care service in Los Angeles. Their daycare provides a safe place for socialization, directed activity, training reinforcement, and much more. They have the best quality dog essentials for pet owners. Dogdrop is the best place for dogs to learn, exercise, and socialize to become happier and healthier dog citizens.