Preston Gives Comfort During The Darkest Hours
Dear TLCAD,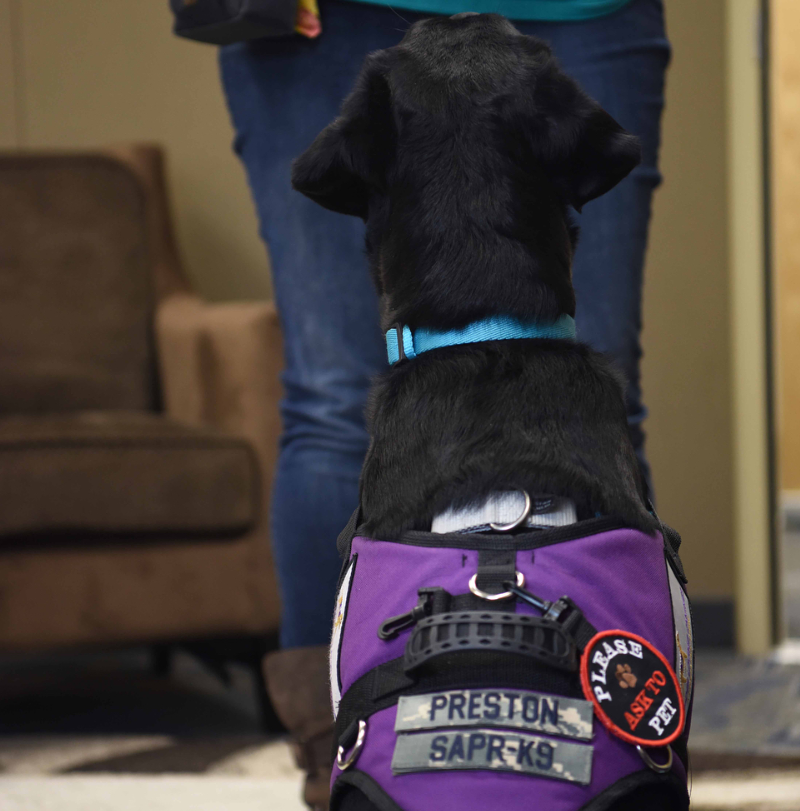 Thank you again for the amazing gift that has been Preston. When I started the journey of looking for a facility placement I never could have imagined how his work would truly be changing lives every day. In early 2017 the #metoo movement was at its peak and the those of us working in the victim care/response fields we were working more care and cases than most programs could support. Hearing the heartbreak in many of our clients voices and in some cases relief for the ability to finally speak about secrets they had been holding on to for years if not decades, I couldn't help but feel like we had to be able to do something more for those who showed the tremendous strength to walk in our doors. I started researching the ability to have a facility dog and came across the Courthouse Dogs Foundation. In working with the Courthouse Dogs Foundation I was given the name and application process for TLCAD. In reviewing the many programs available for placements I was immediately drawn to TLCAD for their training and placement model, and it fit exactly what I was hoping to accomplish with a facility dog in my program as a sexual assault prevention & response program manager.
In my first few weeks with Preston I didn't know what to expect, but my philosophy as a program manager is if I can get employees who truly care about the program and believe in the power of the cause and work we do, I can teach them how to do anything. I adopted this same attitude when it came to Preston and his transition into our program, and with the training of TLCAD we have been extremely successful. Every month Preston has the ability to work with hundreds of individuals. He is the face of the program greeting the newest members of the military arriving at our base with his sweet smile and custom cues. We have Airman hold him for a hug as we see a tear or two because they miss their own pets they have left behind or the comfort from someone who is providing unconditional love after they have been without their friends and family from back home. He is the gentle greeting in our office for those who are sometimes in their darkest hours, and the quite support inside the courtroom. When we walk him around the base people can't help but smile at him, and ask about his story and how he came to our office giving myself and the other staff the opportunity to educate people about the program we run and our services. Preston is reaching people we have never been able to reach before because he is the bridge that brings people in the door to talk to one of his "co-workers". I can't help but smile when he receives a call on the phone asking if he is in just like I do for the other staff members.
His work is beyond measure and as he continues to work with the Airman walking in our doors his influence will continue to support individuals who will go worldwide in their military future. Thank you for the amazing gift of Preston, we will be forever thankful for TLCAD!
Sincerely,
Team Preston