All service dog students are required to attend Team Training. TLC's 3–phase Team Training model prepares clients to effectively utilize the service or facility dog's custom trained assistive tasks in all environments. Team Training currently takes place up to four times per year.
TEAM TRAINING
1. Foundation Training Workshops
Foundation Training is a 3-week online course that prepares students for On-Campus Training.
Foundation Training Workshops are designed to:
Orient students to their service dog and life with a service dog.

Teach students TLC training methods to maintain and build upon their dog's skills.

Prepare students to utilize their service dog at home and in the community.
2. On-Campus Training
Requires that the student travels to and resides at our dorms in Sylmar, CA, for 10 days of intensive training.   
On-Campus Training is designed to:
Teach students their dog's trained foundation and custom cues.

Teach students handling skills needed to utilize their service dog.

Develop the bond between the dog and student.

Prepare students to pass a Public Access Test and successfully navigate the community with their service dog.
3. Adjustment and Bonding
After on-campus training, the student returns home with their dog where they spend several months adjusting to home life.  Students must attend a video call meetings each week during the first month.
Adjustment & Bonding is designed to:
Allow for adjustment to home life routines and integrate with family members.

Facilitate  bonding.

Ensure the successful transfer of the dog's skills to the home environment.
After Team Training: Follow-up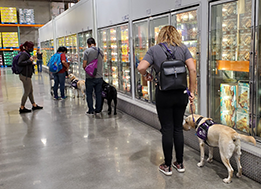 After completing all three phases of Team Training, the TLC staff will follow up with you once a month for the first six months, again at the 9-month mark, and annually thereafter for the working life of your dog. You will receive an email that includes a request for completion of an online questionnaire. TLC staff will review the information received and contact you if the report indicates that assistance is needed. TLC staff are also available for support on an as-needed basis by contacting us via phone or email.
For Veteran recipients, per ADI standards, during Month 3-4 of the placement, TLC staff will conduct an individual training session at your home and/or in your community to ensure the success of the team in all environments. The training in the home is designed to fine-tune the transfer of the dog's skills in the home and assist in establishing routines, custom household rules, and behavior plans to set the service dog team up for success. Training in the community is designed to ensure the ability to utilize your service dog to mitigate symptoms of your disability, to increase your independence in public and to ensure the dog's work in public is consistent with the requirements of the Public Access Test.
Post-Placement Process for Maintaining Certification
TLC performs annual assessments to ensure that each client and dog has mastered all necessary subject matter and is continuing to work to the standards set by TLC and ADI. Annually, each certified client team will complete an assessment that includes an online questionnaire, video call, and follow-up support as needed. Also, clients must annually provide TLC with copies of their dog's vaccination records and proof of annual wellness exam.