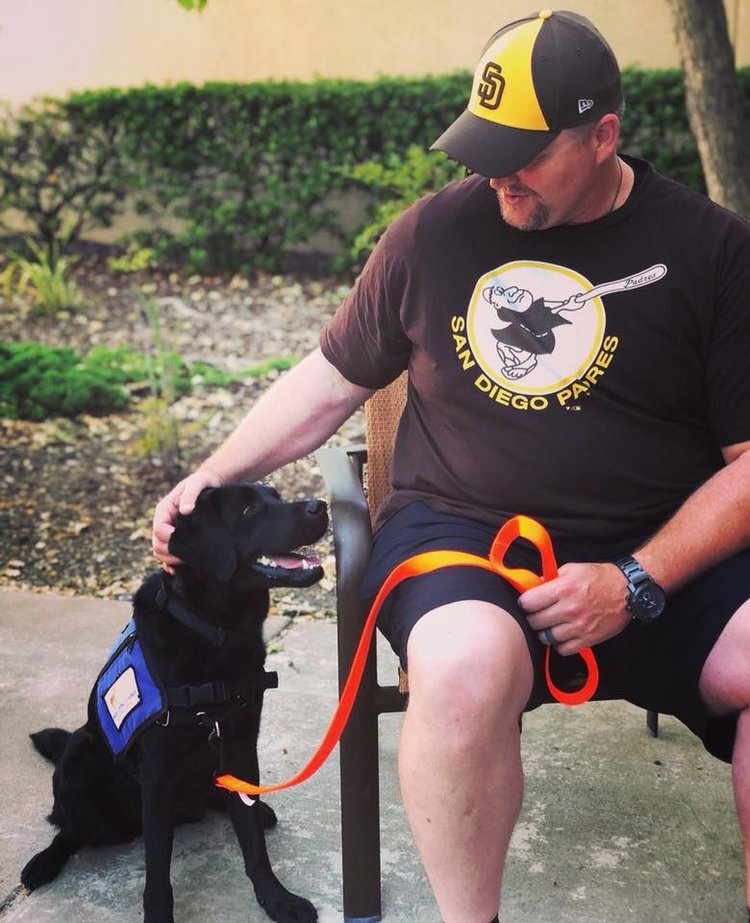 Amador supports Richard, an Army veteran, by performing retrieval and deep pressure input. Amador helps to decrease symptoms of post-traumatic stress disorder and mobility limitations, while increasing independence and overall quality of life for this deserving veteran and his family.
"My wife and son saw a flyer at the mental health clinic of the VA Hospital in Sacramento, California. They went to the website and recommended me for a service dog. We expected to be waiting for a year or more and were very surprised to be selected this spring.
Team training was very challenging. My wife and I attended the training together and quickly realized that it was going to be a bit of work and discipline to have the best results with a service animal. There was a lot to learn. The team was very well educated and their presentations were invaluable to our understanding of maintaining the training Amador had been receiving over the past two years. Attending graduation was a humbling experience. The inmates had truly devoted themselves to providing the highest care and training for these puppies. It was evident that they were committed and dedicated both to the puppies and to the purpose of the program.
The first few weeks posed challenges as I tried to remember everything we had learned during training. Both the cues and the timing were important to master. We spoke openly with the training staff and received amazing support as we learned and practiced.
I don't think there is a high level of awareness about the cues which can be trained and utilized for PTSD. For me, I have benefited greatly from the support Amador provides. She consistently responds to any uneasiness I may be feeling. I don't even have to show it. Sometimes I don't even realize that my emotions are ramping up until I feel her laying across my feet or putting her chin on my knee. Her cues do two things for me. First, they help me realize and acknowledge how I am feeling and second, they provide comfort as I am able to interact with her. Everybody knows that interacting with animals deescalates difficult emotions. I have experienced that benefit on a daily basis.
Amador is also excellent in retrieving items. I have difficulty getting up and down from a chair or bed. Amador is able to identify what I am pointing to and retrieve it for me. I have worked with her to retrieve my cane, even if it is in another room. She is such a smart dog.
Tender loving canines is a superior program to others I'm aware of. I have spoken with other service dog recipients and have found that my experience has been better, I have received more support from the training team, and Amador's cues are better developed than reports I have heard from others." Richard, Amador's handler