You're invited! 37th Annual William W. Winpisinger Charity Banquet
Join Guide Dogs of America as we honor the 2017 Recipients of The Gift of Sight Award:
Mr. Dale Hartford: Past President, Guide Dogs of America
Mr. Thomas Gentile: SpiritAero, President & CEO
Mr. Sito Pantoja: General Vice President, Transportation

The 37th Annual Guide Dogs of America William W. Winpisinger Charity Banquet will be held on Saturday, November 18, 2017 at Paris Las Vegas Hotel & Casino.
Cocktails at 5:15 p.m. Paris Las Vegas, Hotel & Casino Rivoli Ballroom. Dinner will start promptly at 6:30 p.m.
It's a tailgate party – wear your favorite team jersey!
$200 PER TICKET or $2,000 PER TABLE OF 10. Only reserved tables of 10 will have table assignment. Single tickets receive open seating. All proceeds benefit Guide Dogs of America.
RSSVP deadline was October 31, 2017.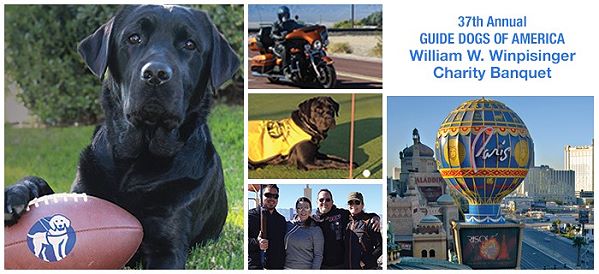 Learn more about the other exciting local activities planned around this annual celebration of Guide Dogs of America and the supporters who make it possible for us to provide blind and visually impaired individuals with guide dogs and instruction in their use, free of charge.